Overview
Heel pain is a problem for many people. It makes standing and even walking around for long periods of time very uncomfortable. Several different conditions can lead to uncomfortable heels, but the most common culprit is plantar fasciitis. This is the inflammation and swelling of the plantar fascia, a tendon that runs along the
sole
of your foot and attaches to the bottom of the calcaneus, or heel bone. Repeated hard impacts or strain from overuse causes micro-tears to develop in the tendon, irritating it. The minor damage compounds over time and causes the tissue to swell and tighten, painfully pulling on the heel bone.
Causes
If it
hurts
under your heel, you may have one or more conditions that inflame the tissues on the bottom of your foot. When you step on a hard object such as a rock or stone, you can bruise the fat pad on the underside of your heel. It may or may not look discolored. The pain goes away gradually with rest. Doing too much running or jumping can inflame the tissue band (fascia) connecting the heel bone to the base of the toes. The pain is centered under your heel and may be mild at first but flares up when you take your first steps after resting overnight. You may need to do special exercises, take medication to reduce swelling and wear a heel pad in your shoe. When plantar fasciitis continues for a long time, a heel spur (calcium deposit) may form where the fascia tissue band connects to your heel bone. Your doctor may take an
X-ray
to see the
bony
protrusion. Treatment is usually the same as for plantar fasciitis: rest until the pain subsides, do special stretching exercises and wear heel pad shoe inserts. Having a heel spur may not cause pain and should not be operated on unless symptoms become chronic.
Symptoms
The symptoms of plantar fasciitis include pain along the inside edge of the heel near the arch of the foot. The pain is worse when weight is placed on the foot especially after a long period of rest or inactivity. This is usually most pronounced in the morning when the foot is first placed on the floor. This symptom called first-step pain is typical of plantar fasciitis. Prolonged standing can also increase the painful symptoms. It may feel better after activity but most patients report increased pain by the end of the day. Pressing on this part of the heel causes tenderness. Pulling the toes back toward the face can be very painful.
Diagnosis
A biomechanical exam by your podiatrist will help reveal these abnormalities and in turn resolve the cause of plantar fasciitis. By addressing this cause, the patient can be offered a podiatric long-term solution to his problem.
Non Surgical Treatment
There are many treatments for fasciitis. The most common initial treatment provided by the family doctor are anti-inflammatory medications. They may take the edge off the pain, but they don't often resolve the condition fully. Steroid injections, which deliver the medication directly to the most painful area, are usually more effective. Rest, ice, weight loss, taping, strapping, immobilization, physiotherapy, massage, stretching, heel cushions, acupuncture, night splints and extra-corporeal shock wave therapy all help some patients. Many patients, however, have a biomechanical cause such as excessively pronated feet to their complaint, and this may mean many of the treatments listed above will only provide temporary relief of fasciitis symptoms. When you stop the treatment, the pain often returns. This is why many cases of fasciitis respond well to orthoses, custom-made inserts that control the mechanical cause of the complaint. If you're considering orthoses, it's very important to have a podiatrist specializing in
the field
to examine you. There are many biomechanical factors to consider when assessing the need for literally dozens of types of devices available, so you need to have an expert to properly assess you. (Unfortunately, as is the case in many jurisdictions, there is no minimum standard of training required in
British
Columbia to make orthoses, and there are many fly-by-night operations around that employ salesmen with little, if any, training in understanding anatomy or foot function. The emphasis with these groups is on selling you some sort of device, rather than providing proper assessment, treatment and follow-up.
Surgical Treatment
Surgery to correct heel pain is generally only recommended if orthotic treatment has failed. There are some exceptions to this course of treatment and it is up to you and your doctor to determine the most appropriate course of treatment. Following surgical treatment to correct heel pain the patient will generally have to continue the use of orthotics. The surgery does not correct the cause of the heel pain. The surgery will eliminate the pain but the process that caused the pain will continue without the use of orthotics. If orthotics have been prescribed prior to surgery they generally do not have to be remade.
deelsonheels
Prevention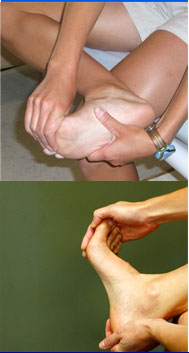 Prevention of heel pain involves reducing the stress on that part of the body. Tips include. Barefeet, when on hard ground make sure you are wearing shoes. Bodyweight, if you are overweight there is more stress on the heels when you walk or run. Try to lose weight. Footwear, footwear that has material which can absorb some of the stress placed on the heel may help protect it. Examples include heel pads. Make sure your shoes fit properly and do not have worn down heels or soles. If you notice a link between a particular pair of shoes and heel pain, stop wearing them. Rest, if you are especially susceptible to heel pain, try to spend more time resting and less time on your feet. It is best to discuss this point with a specialized health care professional. Sports, warm up properly before engaging in activities that may place lots of stress on the heels. Make sure you have proper sports shoes for your task.